---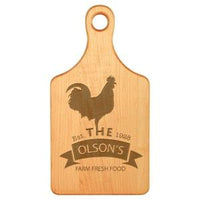 Great gift for people who can actually cook. It's pretty. But it's pretty useful too.
The pictures are examples, but you can purchase those too. Let's personalize to you and your loved ones. Can put your name, logo, whatever you want on it. 
Please only use the un-engraved side so it stays pretty ;)
After your order is placed, you will be able to send an email where you, with as much as possible explain what you want. We will provide an initial proof to you and as many versions as it takes to make you happy with your purchase.
Price includes product and customization.